---
Reviews:
Reporter World provides a variety of safety equipment, identification products, specialized high-visibility clothing, pertinent news, product reviews, book reviews and useful links specifically for reporters, writers, assignment editors, news correspondents, journalists, ENG crews, photographers, production staff, directors, segment producers, media security personnel, and freelancers: in short, anyone who is part of the news gathering, information reporting, or documentary film industries.

In this section we review various products and services of relevance to reporters, writers, correspondents, ENG teams and production staff. These products include cameras and accessories; computer hardware and software; scanners; printers; books and other products. Smaller, mini-reviews, are also available in other sections of this site including Products, Books and Movies.

We are constantly adding additional reviews to this section. If you have any suggestions for other products you would like us to review, simply e-mail us using the feedback address on our Terms of Service page. Please supply us with as much information as you can about the product (including name, manufacturer, model number) or book (including title, author, ISBN and publisher).
---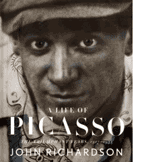 Title: A Life of Picasso: The Triumphant Years, 1917-1932
Author: John Richardson
Copyright: © 2007
Publisher: Knopf, an imprint of Random House
ISBN-13: 978-0-307-26665-1

Relevance: Any artist, photographer or journalist working the art or culture beats who needs biographical or background information about one of the twentieth century's best known artists: Spaniard, Pablo Picasso.

Review: This is John Richardson's third in a planned series of four books dealing with the life, loves and work of Pablo Picasso, arguably the most talented artist of the twentieth century. Mr. Richardson has written for the New York Times Book Review, The New Yorker, and Vanity Fair as well as being a famed art historian in his own right. In short, he knows about Picasso and he's very eager to show off his expertise.

In his previous two works, A Life of Picasso: The Prodigy, 1881-1906 and A Life of Picasso: The Cubist Rebel, 1907-1916, Richardson dealt thoroughly with the artist's childhood and formative years, both as a man and as a painter. This third volume details Picasso's middle years, ones in which he establishes himself as a master professional and deals with much turmoil in his personal life.

The fact that Picasso's full birth name was "Pablo Diego José Francisco de Paula Juan Nepomuceno María de los Remedios Cipriano de la Santísima Trinidad Martyr Patricio Clito Ruíz y Picasso" gives license to author Richardson to dissect the artist's life in the most minutest of detail. This third installment runs to over 600 pages and sports a shipping weight of almost three pounds. The two previous volumes are nearly as equally detailed (or verbose, depending on one's perspective). The Prodigy paces out at a comparatively light 512 pages while The Cubist Rebel is somewhat plumper at 560 pages.

For this volume, we now rejoin Picasso just after the artist moves from his Cubist stage and into his Neoclassical phase. At the beginning of this period we find the artist designing costumes for Diaghilev's Ballets Russes and meeting (and marrying) the Russian ballerina Olga Khokhlova, the mother of his only legitimate child, Paulo. It was in the Diaghilev troop that Picasso worked with such musical giants as Satie and Igor Stravinksy and it was also here that Picasso met several others who would become very influential in his art and life.

Richardson describes – often using arcane details – the married couple's lavish lifestyle in roaring Paris and their summers in the south of France. Readers will be struck by how much of Picasso's life is mirrored in his art. We see, for example, the traditional artistic representations of his new marriage to Olga, full of love, playfulness and rapture, all the way through to its relatively quick (and alas, demonic) end. Although Picasso does not divorce Olga (French marital law would call for Olga to receive half of Picasso's fortune in settlement), the artist does not let the small detail of marriage come between him and his happiness and proceeds to continue numerous infidelities (sometimes simultaneously).

For Richardson, it's as if Picasso was writing his daily diary to us in his art. It's Richardson's job, he feels, to perform the translation from Picasso's sketches, paintings and sculptures to words. This is Richardson's gift and he's most at home when exercising it freely.

As Picasso's marriage to Olga lurches to predictable catastrophe, he takes up with Marie-Thérèse, by all accounts a chaste and beautiful 17-year-old girl whom Picasso eventually seduces. The artist is now 45 and thoroughly besotted by the young girl's beauty. He officially separates from Olga and takes up with Marie-Thérèse with whom he has a daughter, Marie.

All through the sordid events, Richardson takes great pains to map Picasso's art to his real life. It is said, of course, that art imitates life. Richardson underscores this point constantly with hundreds of tidbits, examples and anecdotal stories. It's a veritable feast for the voracious Picasso aficionado but we thought the book sometimes drew too many conclusions and was far too detailed for the casual Picasso fan. But casual Picasso fans are clearly not Richardson's target audience. His book might be considered a bit over the top, even for devotees, but all readers will clearly be awed by his detailed research and love of the subject.

While we can see the value of the often day-by-day dissection into Picasso's life, especially in a book series of this kind, we note this book is not for the casual admirer of Picasso nor of his art. No, the book is aimed squarely at those who truly can't get enough of the artist and will ravenously devour what amounts to a PhD thesis on Picasso the man and Picasso the artist. There are well over 200 black and white and some four dozen color sketches and reproductions in this tome, but Richardson primarily uses the written word to impart the vast majority of his analysis. This might be incongruous for some readers expecting a 600+ page book to be more "arty" but it is important to note this is primarily a book about Picasso and how (and why) he did what he did. It is not a coffee table book showcasing glossy prints of the master's art. Rather, it is a fascinating behind-the-scenes look at what made the artist tick.

Overall:
Richardson's voice is on every page and readers can easily feel the respect, even reverence, the author has for Picasso. While Picasso's troubled relationships with Olga and others are disregarded by some of his biographers, Richardson goes to detailed lengths to outline the huge contribution that the women brought to both Picasso's emotions and his art during this time. While Richardson does tend to gloss over some of Picasso's weaknesses for women (and his abysmal treatment of some of them), he does an excellent job recounting the various major influences on his life. Recommended.

End of Review
---
Have your say.
You can give us your feedback by visiting our Terms of Service page.
Buy this book.
If you wish to buy this book right now, please click here.
You may also be interested in the following books in the same series:
Read other reviews.
If you wish to return to the main Reviews page, please click here.
---